by Ian McHugh
With the forthcoming release of his first fiction anthology, Suspended in Dusk, I interviewed editor Simon Dewar about chutzpah, the importance of having no concept of level of difficulty, the horror of caesarian sections and the inspirational value of Mariah Carey and prog metal. Oh, and some stuff about the nuts-and-bolts of editing an anthology and writing fiction, too.
Suspended in Dusk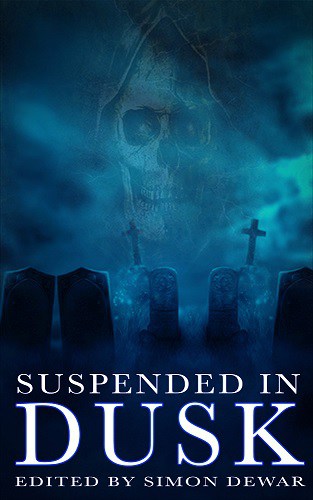 Dusk:  A time of change; a time between times; a time on the brink between light and dark.
With an introduction by the renowned Jack Ketchum, Suspended in Dusk features 19 fantastic authors of the dark,the horrific, and the bizarre:
Alan Baxter,  Angela Slatter (British Fantasy Award Winner) , Anna Reith,  Armand Rosamilia, Benjamin Knox,  Brett Rex Bruton, Chris Limb, Icy Sedgwick, J.C. Michael, John Everson (Bram Stoker Award Winner), Karen Runge, Ramsey Campbell (British Fantasy Award and Bram Stoker Award Winner) Rayne Hall, Sarah Read,  Shane McKenzie, S. G. Larner, Tom Dullemond, Toby Bennett, Wendy Hammer
"SUSPENDED IN DUSK offers a delicious assortment of chills, frights, shocks and very dark delights!" – Jonathan Maberry, New York Times bestselling author of FALL OF NIGHT and V-WARS
"Disquieting and at times terrifying, SUSPENDED IN DUSK shows that horror can, and should, have substance." – Kaaron Warren, Shirley Jackson Award winner and author of Slights, Mistification, and Walking the Tree.
Suspended in Dusk will be launched at the Conflux Science Fiction convention in October 2014.
– – –
It wasn't so long ago that we were tearing apart the first story you put through the CSFG crit group, and then congratulating you on your first fiction sale (of that same story). It takes a fair dose of chutzpah to go so quickly from there to editing your first book, let alone to pulling together a line-up including award winners and other established names. And I believe you were originally going to co-edit with a more established editor (Nerine Dorman, who edits the Bloody Parchment anthologies) but had to complete the project solo. How did you go about pitching yourself, and this project, to the authors you solicited stories from? What do you think was the key to success?
Originally, I began approaching authors about the project while the plan was to still go ahead and publish it with Dark Continents Publishing, for whom my good friend Nerine Dorman is one of the editors. With a few exceptions, like an open invite to CSFG members and Litreactor members, it was invite-only.
I think the fun all started when I was talking to Nerine and she mentioned that she's a great fan of the Aussie horror author Angela Slatter. As a joke, I said… "you know what? I've got Angela Slatter on my Twitter. Why don't I ask if she'll contribute a story?"  So I contacted Angela and said "Hey, I'm working on this anthology and my co-editor is a huge fan and I'm wondering if you consider making her day and contributing a story—perhaps a reprint or something?" Angela responded and offered a brand new story of hers! I was over the moon (still am!) and after thinking about for a while I realised something: the worst Angela could've done would've been to say no.  As a writer, we get used to people (editors, publishers, agents, family) saying 'no' all the time, right?  So I wondered if I could repeat the process.
Heh. In my experience the worst anyone can say is "No, no, NO! For the love of God!" Good thing you didn't know that! But that might just me. Clearly I don't have your charm. Anyway, sorry, you were saying…
Haha, you might be right there!
From there I approached about 10 other authors (usually just via their website or social media) who were well known/award winning and whose work I'd enjoyed previously.  Some replied, some didn't. Some said yes, some said no.  In the end, I walked away with reprints from Ramsey Campbell, John Everson, Shane McKenzie and Rayne Hall.  Ramsey is one of, if not the, most well regarded and awarded horror writers. John Everson is super talented,well recognised and also highly awarded.  Rayne Hall is a self-publishing powerhouse, and has phenomenal success with her Ten Tales anthologies that she edits and with her own fiction.  What a coup!
My pitch to them was something along the lines of the following:
"Hey, My name is Simon Dewar and I'm great fan of your work. I'm working on this anthology to be published by Dark Continents Publishing and was wondering if you'd like to contribute a story or a reprint. I'm hoping to bring together new and established voices in horror from a range of different styles. Unfortunately I can only pay you peanuts, so I totally understand if this isn't a suitable market for you work. Thanks so much for your time and consideration."
Short, friendly, snappy— and giving them the obvious understanding that this wasn't a pro-pay market and that they could happily say no. I think it worked well!
So I had all the authors lined up before things fell through and Nerine/DCP was unable to continue with the project.  When this happened it was before any contracts had changed hands so everyone was basically free to walk their separate ways. I really didn't want all my hard work and emotional investment to go to waste so I pitched to another couple of publishers before it found a home with Books of the Dead Press.
We got to know you in CSFG first as a writer, but you've obviously had a parallel interest in editing and you've been involved in other projects before Suspended in Dusk. Do you see your primary aspirations being as an editor or as a writer?
Definitely see myself as a writer first. Suspended in Dusk was meant to be a fun side project done in collaboration with Nerine via DCP. It turned into massive solo undertaking instead. I've learned so much about writing and the publishing process from working on Suspended in Dusk, which I feel has been totally invaluable. I've honed my critical skills and my grammar to levels that I wouldn't have achieved without having undertaken this project. Let's face it… when you're editing a book with some of the best names in the game, you can't afford to screw up.
So, having seen this book through – and pretty much gone through the wringer with losing your original publisher and co-editor, as well as having the high of landing such prominent contributors – do you think you'd do it again anytime soon?
Definitely. I've already having thoughts percolating in my head about possible themes and who I'd like to invite to write a story for the next anthology.  I'm going to suppress these urges for a while though so I can finish some of my own writing and, hopefully, get a couple more sales under the belt.  I've got two stories on sub at the moment, on of which made final reading/short list at APEX, which I hope will find publication soon. I'm also working on horror novella called The House of Waite, which is set in the NSW southern highlands which I'd like to finish and start shopping around. I've actually struggled a bit with the transition from shorter to a longer form, but I've finished plotting out the second half of the story now and want to get it done and dusted.
A book needs a good elevator pitch and you had to find a publisher for Suspended in Dusk. You found a good home with North American indie horror publisher Books of the Dead Press. What was your pitch?
Apparently its phenomenally hard to re-home an anthology to a new publisher, or so I'm told… which makes sense. It'd be hard to line up a whole book's worth of stories with the tastes of a publisher's acquiring editor. After having another publisher show interest but pass up on the project I was pretty distraught and didn't see much hope of light on at the end of the tunnel.
When I pitched to James Roy Daley at Books of the Dead Press, I gave a short blurb about the anthology theme…. Dusk being a time of change, a time between times, a time on the brink between light and dark. I included the table of contents so he could see the full list of authors and highlighted the achievements of some of the well-known authors such as Angela Slatter, Ramsey Campbell, John Everson etc. I mentioned Alan Baxter's recent sale to Harper Voyager. I also mentioned the social media profile of some of the authors whom have tens of thousands of twitter followers and my wish, should it be published, to have the anthology widely reviewed. As it turns out Roy had also recently published a novel by J.C Michael and had previously published fiction by John Everson in another anthology; I think it really helped to come to the table with a few known quantities, some great well-known names, but with the obvious impression that I care about sales/getting a book out there that people will read.
Thankfully Roy responded with an offer and the rest is history.
I guess it's good you didn't know that about re-homing an anthology, too, huh?
Yeah. I had no idea that apparently its virtually impossible to do. Rayne Hall, who has been an editor for many years and has had work traditionally published and self published, advised me that she'd never actually seen someone successfully re-home an anthology—and had seen several attempts in the past. I like to think this says a lot about quality of the stories and the mix of different writers, new and old, who are in the book. It could just be pure luck though. Either way, I'm not complaining!
Dusk as the liminal state between light to dark is a nice idea to hang a horror anthology on. How tightly themed are the stories in Suspended in Dusk to that idea of standing on the brink between light and dark? 
Ironically, Suspended in Dusk originally started out as a non-themed anthology. Nerine and I couldn't think of title and she really liked the name of this old Type-O Negative song, so that's how it found its name!  After a while, I thought that it was a pretty good theme in itself and I just ran with it and asked authors to submit whatever they like but if they had something that gelled with the title, that'd be great. Once submissions were complete and I began the read-through, I viewed the theme very broadly. Instead of being focused on simply dusk being the time between light and dark, I saw it more broadly as a time of change, a time between two times, being on the edge between one thing and another, being in the dying moments of something, etc. I think that, in the end, I collected 19 stories, many of which are vastly different but all touch on my vision of that theme to lesser or greater degrees. Some stories have a literal link, some metaphorical; some obvious, some slightly more obscure.
Man, if I'd chosen a Type-O Negative song for the title of an anthology, it would've been "The Glorious Liberation of the People's Technocratic Republic of Vinnland by the Combined Forces of the United Territories of Europa". Booyah! But that might've been a fairly different book. Okayokay, lamest writing question ever, but I'll preface it to hopefully make it walk nicely: there's a song by Jose Gonzalez with the lyric "keep both feet on the ground, while I change the wings", which burned instantly into my head as a vision to build a story around. What's a song title or lyric that has made you go "Holyshit! Story!"?
A while back I wrote a story about a very strange school kid who liked heavy metal but secretly kept the first three Mariah Carey albums in his CD wallet (amongst other blasphemies). I got the idea from this guy I went to school with who literally did just that… had a collection of like 250+ metal albums and three Mariah Carey CDs that he kept just to freak out anyone who looked through his CD collection. Or so he said, heh. Anyway, when I decided to write this story I just knew I had to weave in something of one Mariah's songs (obviously without directly infringing her copyright). The first album I picked up was her second album Music Box and I saw a song called Hero. It has the lyrics:
There's a hero
If you look inside your heart
You don't have to be afraid
Of what you are
As soon as I read these lyrics, I knew THIS was the song and it was perfect. This was the song that would perfectly complement the story and would really make the story.  The result was a story cunningly titled, Music Box. 
Fast forward a few months—manna from Heaven—it turns out there is a submission call at Grey Matter Press for an anthology called Savage Beasts. They want horror and dark stories that involve music in some way.  Y'know the old adage "Music soothes the savage beast!" From an editing perspective, I'm kinda jealous because I think the theme is pure genius. I've submitted my story Music Box to GMPand I'm crossing all limbs that they like it.
I've been asking writers about the point when they were kicking around the ideas for their books that they started to get excited – that they knew they had a story, rather than just an idea. I haven't asked the question of an editor, though. What was that moment of excitement for you with Suspended in Dusk, when you knew you had something that would fly?
Because I had a total field of about 60 stories to choose from I quickly developed some criteria by which I'd assess the stories. In no particular order, they were:
1.did it meet word count and other general submission criteria
2. was it on theme?
3. quality of writing/amount potential editing work
4. Unique voice or WOW factor.
If something ticked all those boxes, it at least made the short-list. Once I got the short list of about 25 stories, I started to compare and ween the number down until I reached the final 19.
In retrospect, when I looked at stories and judge the amount of editing required. I generally just looked at it from a grammatical perspective. Next time I'll probably take Developmental/Structural editing into account.
So was it not until you saw you had that short list that you knew you had a viable book, or were you confident sooner than that? 
I was actually pretty concerned for a while about whether or not I'd have a viable book or whether I'd need to set up an open submission and get it advertised through duotrope/grinder/etc. Initially, I got some great stories come through from established writers and some fabulous reprints, but even though the anthology was practically invite only, I still got a lot of unsuitable stories come through. Either they were off theme or poorly written or just ignored all the submission guidelines. Eventually, 11th hour, I had some really fantastic stories come through. I think once I knew I had 25 relatively solid stories I knew I had a book, I just needed to whittle out the few then which least suited the theme and the other stories. That left me with the final nineteen – 15 new stories and 4 reprints.
A question about your own writing now: your initial success with short fiction has notably been in responding to themed anthologies and contests (viz, your sales to the Bloody Parchment, Death's Realm and The Sea anthologies). What do you think is the key to writing to a theme? Is there a key, or is it just a matter of doing your best and hoping it floats the editor's boat?
In my own experience as a writer, I think that editors are looking for something on the theme but not necessary always a literal interpretation of it. Generally editors are pretty open-minded people and it's often the slightly off-kilter or more abstract interpretation of a theme by a writer that produces a story that has that special something.  Try to be original. With any theme, there are going to be obvious cliches—try and avoid them. If you're going to use a trope, make the spin on it fresh.
Good advice. You could adapt that "what are 20 ways this story could end?" exercise, for finding the right but less-obvious ending to a story, to "what are 20 ideas I have from this theme?" Somewhere in the teens you'd hope to find the right one. Do you do anything like that to find the right idea for a theme?
No, but I might give it a try now, haha.  Thanks!  I think, though,I mostly look for an issue, or an event, or something which really speaks to me.
For example, my wife has given birth to 3 kids in under 3 years, bless her.  New life, birth, pregnancy, etc has been a really big part of my life for the last 3 years (and I'm not even a woman!). I fetched my wife's spew bucket for the last 9 months straight and comforted while she suffered. I rushed her to the hospital with hyperemesis more than once, and when her waters broke at 1:30 am on the final day. I sat the there completely helpless while she had her contractions and they shoved a needle that looked about a foot long, into her back to give her a spinal block. And stared in horror during the caesarian at this giant cannister that vacuum-sucked litres of my wife's blood and .. stuff .. into it. Holy moly. What a roller-coaster ride!
And that's just part of my experience as one man with his wife, in one birth.  But there are all kinds of births, right?  Births of new opportunities. Births of new nations:  "Birth pangs of new Middle East" as Condoleeza Rice put it a while back.  These are just some examples, particularly if you view this theme more widely than just making new human babies.   I've thought more than once that a theme somehow focused on birth might be a great idea for an anthology.  I even think that it'd be totally novel, and probably a good exercise for diversity and inclusion, to have a man edit (or at least co-edit) such an anthology—although, understandably, there'd be a lot of pressure on him to not fuck it up. Whether or not I'm the right candidate for that is another story.
Other than that I'd just follow general advice for submitting to anthologies:  follow all submission guidelines strictly, write to the theme and the genre. Submit early, so your great story gets the editor's attention before they're jaded from having read 200 pieces of slush.
On the surface, writing and editing seem like they should naturally complement each other, but they're such completely different skills sets that many people are strictly either one or the other. Since you've now proved you're a double threat, what's the most significant way that editing helps your writing, and vice versa?
Often times I'll be editing something and be like "Well I KNOW i didn't mean it like THAT" or something like that. Maybe i'll come across some improper present participles which are ruining a sequence of events and making it sound like everything is happening simultaneously.  Editing helps me know what I mean and mean what I say.
Is that what an "improper present participle" is? Man, I had an editor tell me I had those in a science fiction story, once. I thought they were talking about my spaceships' ion drives and completely re-did all my technobabble. Maybe that's why they knocked back the rewrite? Tip for young writers: learn English.
I know, right? I've always been good with English, but its been very instinctual. I've never known much by way of the actual grammatical rules underpinning it.  One of the great things about this anthology project was that it forced me to lift my game. I picked up copies of The Elements of Style, The Elements of Eloquence, Eats, Shoots and Leaves and a bunch of other books. Now I've developed an editing workflow.. like a list of things I scan a manuscript for and work through that list systematically. I find its a really good way of performing a solid edit without missing too much. Easier to scan a manuscript 5 or 6 times, each time looking for 1 or 2 types of grammar faults.. rather than scanning it once and trying to read it with every single grammar rule in mind.  Possibly not the fastest method, but when you're editing other people's work and you're their last pair of eyes before the public see it, you want to be thorough. It's a lot different to editing your own work, because once you hand that to a publisher they'll have someone edit it again for you.
Two related questions: Who is a writer whose work you admire because what they produce is so completely different to what you do? And, what's a style or genre of story that you've not written yourself but want to have a crack at?
The first half of this question is a tough one.  I'd probably go with one of the big epic fantasy writers whose work I have enjoyed throughout the years.  Robert Jordan. GRRM. (Early) David Eddings, etc  or even a litfic writer like Khaled Hoesseini (The Kite Runner, etc) .  Now that i've begun writing, i'm endlessly fascinated with how they've managed to write such LONG stories… sweeping tales, with so many parts, so masny characters and so much dialogue. I honestly can't fathom how they manage to find so much to write about.  I'd like to be able to do that one day, write a novel.. maybe even a series.  Right now I'm working on a novella and I'm finding that challenging enough! Horror stories often have particularly small casts of characters, even novels. I could probably write a horror short story with only one character, if I wanted to.  These novelists? They amaze me!
That's a really interesting distinction: I think fantasy stories do tend to have larger casts of characters and (GRRM honourably excepted) you expect most of them to live, whereas horror might tend to have only enough characters to satisfyingly kill and (maybe) leave the Last Girl or the down-and-out-detective alive. I guess because secondary-world fantasy, like historical fiction and space opera, tends to rely on creating a sense of expansiveness, whereas horror, and any thriller genre, wants to create claustrophobia and imminent threat. 
What would you point to as a good example of a one-character horror story?
The Outsider by H.P Lovecraft really only has one character.  This befuddled guy emerges from this run down castle.. wondering where everyone is and why he's all alone.. and when he sees people they run away, and he discovers upon seeing his reflection that he's this hideous ghoul thing.  In fact, there's probably a few other HPL stories which are similar.
Indie author Michael K. Rose wrote a great story called The Tunnel, about a guy who, alone, is exploring a tunnel in a ancient Finnish castle and experiences a kind of psychic manifestation of the tunnel itself.
*Suspended in Dusk Spoiler Alert* Tom Dullemond wrote a freaking awesome story for Suspended in Dusk about a guy, spinning through space,  slowly going mad after killing all his crew mates on his space shuttle. While he slips further into insanity he recollects others, but he's the only live character in the entire thing.
I think I'd like to write a scifi story sometime in the future. Maybe a scifi cross-over. I've got a few interesting ideas percolating in my brain juices that might work well but they're on the back burner. First I have to finish this damn novella.
Oh! Dude! Right there: "The Glorious Liberation of the People's Technocratic Republic of Vinnland by the Combined Forces of the United Territories of Europa" Scifi cross-over! Use your charm to go get permission for the title. I want to read that story.
If I ever approach a music artist about using their songs as literal fodder for a story, I'm going to approach Jon Schaffer of the metal band Iced Earth.  He's written this cool mythology into his songs that is kinda based around ancient Earth and race of people call the Setians which are supplanted by man's arrival.  The Setians then plot man's downfall and their priests and seers start planning for the birth of the one that religious people equate to as the anti-christ. They infiltrate and assimilate into human society, and orchestrate various historical events according to their plans (Births of religions, prophets, Jesus Christ, JFK, etc). It all began with the "Something Wicked Saga" on the album Something Wicked This Way Comes that was released in 1998,although the story is expounded upon in later albums.
It's freaking bad ass and I honestly think it'd make a totally awesome dark fantasy/horror story, but it's obviously his IP. Jon's a cool dude though. Who knows? Maybe he'd let me write it one day. But because Iced Earth are my all time favourite band, I'd have to be good enough to do it justice.
Definitely check out the following songs in this order, on youtube, if you want to learn more about Iced Earth and their crazy cool Setian mythos:
1. Prophecy
2. Birth of the Wicked
– – –
Simon Dewar currently lives in Canberra, Australia, with his wife and 3 daughters.
He has fiction published in the Bloody Parchment: The Root Cellar and Other Stories, as well as the forthcoming anthologies The Sea from Dark Continents Publishing, and the forthcoming Death's Realm anthology from Grey Matter Press.
By day, he is an ICT systems engineer; by night he writes, and edits, the literature of anxiety.
You may find him on twitter:  @herodfel