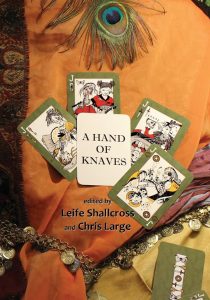 Over the last 12 months various bits of the CSFG community have been busy producing a new anthology, and it's almost here!
Join us at 5.45pm on Sunday, 30 September at the Vibe Hotel, Canberra Airport, to launch this veritable treasure-box of irresistible delights. Tales of deviousness, delinquency and depravity abound in this handsome volume, deservedly dubbed A Hand of Knaves.

We will have shiny, new and not-at-all bootleg paperback copies of the book available for sale at the launch (and at CSFG's table at the dealer's room at Conflux) for the bargain price of $25.

And if you are so enamoured of this beautiful book that a mere paperback is insufficient to sate your literary appetites, during the course of THIS WEEKEND ONLY, to celebrate the auspicious occasion of AHOK's emergence into the world, you can also order a special edition hardback for $40 (+ $7.95 standard postage or $10.85 express). These beautiful, dust-jacketed hardbacks will only be available to order until 11.59pm Monday 1 October, so if if you simply must have one for your collection, get on it. How? Email [email protected] using the secret password "Wanna buy a book?" and we'll send you our Paypal or bank transfer details so we can close the deal. You're also gonna have to cough up a shipping address & stuff like that so we can send it to you.

See you at the launch!