Publications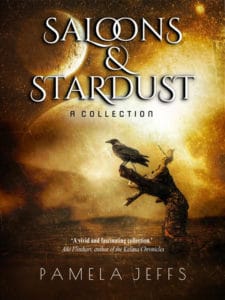 Pamela Jeffs' short story collection, Saloons & Stardust, will be releasing in September. From the blurb:
Immerse yourself in alternate landscapes, from ancient oceans to the weird wilds of western frontiers. There you will find a mechanical dragon feeding on extraterrestrial oil to survive, an undertaker scouring alien battlefields for the dog tags of dead soldiers, the daughter of a pirate forging figureheads for spaceships and chimeras duelling at high noon.
Community
WorldCon happened, and was attended by a hefty chunk of CSFG members. Gillian Polack has a write-up of some of her experiences here.
Anthology
The Unnatural Order Kickstarter has hit its funding goal (yay), and is over halfway to its first stretch goal. With only three days to go, this will be your only opportunity to buy the anthology in hardback format, as well as to support an increased payment rate for our authors, so if you haven't already backed it… better be quick!
(And, of course, we're still accepting submissions…)
Opportunities
The Australian Writers' Centre is sponsoring a Furious Fiction contest. On the first Friday of every month, entrants will have 55 hours to write 500 words for the possibility of winning $500.
Meanwhile the ACT Writers Centre's ACT Writing & Publishing Awards closes for nominations on 3 September. From the award website:
The aim of the ACT Publishing Awards is to recognise, reward and promote writing by ACT region authors that has been published by small publishers or self-published. The Awards are administered by the ACT Writers Centre, in recognition of the excellent writing published locally.
Workshops
Finally, the ACT Writer's Centre, in conjunction with Harry Hartog Bookseller at the ANU, are running a number of workshops over the next few months that may be of interest to CSFG members.