So… uh. This year has been a lot, huh? Hope everyone is staying safe, washing their hands, and getting themselves through things with a good read. Or write. Or both.
Members' meetings
All in-person member meeting are suspended until further notice. Activities for the Novel Writing, Short Story Critique, and Novel Critique groups have also been changed, so please make sure to double check with the respective organizers regarding arrangements during this time.
Community
Most in-person cons, workshops, and meet-ups for 2020 are, sadly, also cancelled, suspended, or had their in-person components removed. Impacted events include (but are absolutely not limited to) Continuum, WorldCon, GAMMA.CON, and most of the activities of the ACT Writers Centre.
On a more positive note, the folks behind NaNoWriMo have launched StayHomeWriMo.
And the shortlist for the Aurealis Awards has been released. Lots of familiar names on this list, so massive congratulations to everyone who made it!
Publications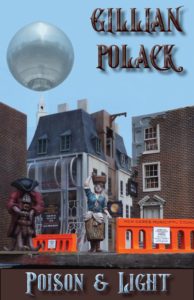 Gillian Polack's Poison and Light is now available. From the blurb:
Renowned artist Grania, famed as a painter of light, arrives in a sleek space ship from Lost Earth, ready to embrace New Ceres and its New Enlightenment in its entirety – its 18th century set up, its coffee houses, its gossipy salons, and its obsession with a low-level approach to tech . . . But is she really ready for its cutthroat society, its strange food issues or for Livia? Livia who toys with lives on a whim, and will stop at nothing to realize her dream society. When Grania marries Dal and sets up her own political salons the stage is set for a battle of wills and poisonous chaos ensues.